Shostak Anatoliy Vasyliovych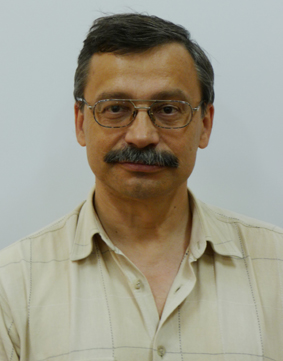 Candidate of Engineering Sciences, Docent, Docent of Computer Systems, Networks and Cybersecurity Department, Radio Electronics, Computer Systems and Infocommunications Faculty, National Aerospace University "KhAI"
Education:
1981 - Kharkiv Aviation Institute, specialist's diploma with honour.
In 1990 he defended his dissertation for the degree of Candidate of Technical Sciences in the specialty 20.02.14 "Arms and Military Equipment". In 2003 he received the academic title of associate professor.
Research interests:
Synthesis of computer network topology,
Neural networks,
Data processing algorithms.
Providing academic disciplines:
«Models and data structures»
«Programming technologies»
«Organization of databases»
Publication:
Author and co-author of more than 40 scientific and educational publications and more than 90 copyright certificates and patents.
Articles:
Шостак А.В. Оцінка ефективності методів ініціалізіції центрів кластерів в беспроводних сенсорних мережах. // МНПК «Інформаційні технології та системи» . – Харків: ХНЕУ ім. С.Кузнеця, 2020. – с. 35.
Шостак А.В. Оценка коэффициента покрытия беспроводной сенсорной сети. // Сучасні інформаційні системи. – 2018. Том 2, № 2, Харьків. – C. 74-77.
Шостак А.В. Оценка вероятности связности беспроводной сенсорной сети. // Системи управління, навігації та зв'язку. – 2017. Випуск 2(42), Харьків. – C. 158-160.
Шостак А.В., Дорошенко Ю.И. О выборе координат размещения точек доступа в wi-fi сети. // Вісник НТУ «ХПІ». Серія: Автоматика та приладобудування. – Харків. : НТУ «ХПІ», 2015. – № 29 (1138). – С. 62–67.
Шостак А.В., Дорошенко Ю.И. Выбор показателя эффективности для потоковой модели многопутевой маршрутизации. // Системи обробки інформації. Випуск 6 (113), Харьків, 2013. - С. 262 – 264.
Безбабных Ю.В., Шостак А.В. Алгоритм выбора координат базовой станции для беспроводной сенсорной сети. // Системи управління, навігації та зв'язку. Випуск 4(20) 2011 стр. 276-278.
Денисенко В.С., Шостак А.В. Модификация алгоритма построения кратчайшего остовного дерева для беспроводной сенсорной сети. // Системи обробки інформації. Випуск 2 (83), Харьків, 2010. - С. 75 – 77.