Stadnyk (Orekhova) Anastasiia Oleksandrivna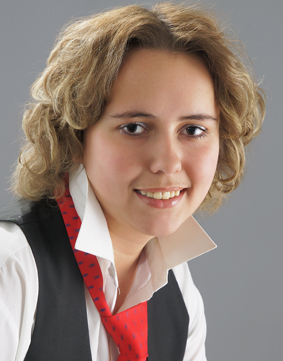 PhD, Senior Lecturer, Department of computer systems, networks and cybersecurity Faculty of radioelectronics, computer systems and infocommunications National aerospace university «KhAI»
Author's profile in scientometric databases:
Scopus https://www.scopus.com/authid/detail.uri?origin=resultslist&authorId=56332781400&zone=
Google Scholar https://scholar.google.com.ua/citations?user=mr9p3SIAAAAJ&hl=uk
ORCID https://orcid.org/0000-0002-7717-4346
Education:
2010 - She graduated from the National Aerospace University. ME Zhukovsky "KHAI", Kharkiv (with honors) and received a full higher education in "Computer Systems and Networks" and qualified as an analyst in computer communications.
2014 - She was awarded the degree of Candidate of Technical Sciences in Information Technology.
Research interests:
Software quality
Human-machine interaction
Information and control systems
Critical computing
VR and AR Technologies
Computer graphics and design
Social activities:
Providing academic disciplines:
"Programming Technologies"
"Design of embedded aerospace systems (AR/VR)"
"Computer graphics and design"
Publications:
A.O. Sachenko,V.V. Kochan, P.Ye. Bykovyy, D.I. Zahorodnia, O.R. Osolinskyy, I.S. Skarga-Bandurova, M.V. Derkach, O.O. Orekhov, A.O. Stadnik, V.S. Kharchenko, H.V. Fesenko. Internet of Things for іntelligent transport systems: Practicum / A.O. Sachenko (Eds.) – Ministry of Education and Science of Ukraine, Ternopil National Economic University, Volodymyr Dahl East Ukrainian National University, National Aerospace University "Kharkiv Aviation Institute", 2019. – 135 p.
Orekhov A., Stadnik A., Kharchenko V. (2019) Cooperative Ecology Human–Machine Interfaces for Safe Intelligent Transport Systems: Cloud-Based Software Case. In: Kharchenko V., Kondratenko Y., Kacprzyk J. (eds) Green IT Engineering: Social, Business and Industrial Applications. Studies in Systems, Decision and Control, vol 171. Springer, Cham. https://doi.org/10.1007/978-3-030-00253-4_19
Articles:
Orekhov, A., Stadnik, A., Kharchenko, V. Cooperative ecology human–machine interfaces for safe intelligent transport systems: Cloud-based software case // Studies in Systems, Decision and Control, 2019. - с. 449-468 SCOPUS.
Orekhov, A., Orekhova, A., Kharchenko, V. Ecological Design of Cooperative Human-Machine Interfaces for Safety of Intelligent Transport Systems // MATEC Web of Conferences, 2016. – 6 р. SCOPUS.
Orekhov A. Human-machine interface quality assessment techniques: Green and Safety issues / Orekhova N., Kharchenko V., Orekhov A. // Proceeding of IEEE The 10th International Conference on Digital Technologies DT 2014: Zilina, Slovakia, 2014. – P. 259- 264 SCOPUS.
V. Kharchenko, A. Orekhov, E. Brezhnev, A. Orekhova, V. Manulik. The Cooperative Human-Machine Interfaces for Cloud-Based Advanced Driver Assistance Systems: Dynamic Analysis and Assurance of Vehicle Safety // Proceedings of IEEE East-West Design&Test Symposium (EWDTS'2014). – IEEE Kyiv, Ukraine, 2014. – С. 82 – 86. SCOPUS.