Frolov Viacheslav Victorovich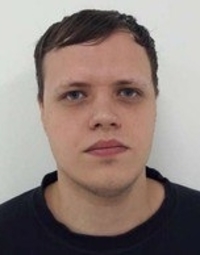 PhD student, assistant lecturer of Computer Systems, Networks and Cybersecurity depart-ment, National Aerospace University "Kharkiv Aviation Institute"
Author's profile in scientometric databases:
Google Scholar https://scholar.google.com.ua/citations?user=bbB6RukAAAAJ&hl=ru
&authuser=1
Scopus https://www.scopus.com/authid/detail.uri?authorId=57203148337
ResearcherID https://publons.com/researcher/1798214/viacheslav-frolov/
ORCID https://orcid.org/0000-0002-5860-7193
Education:
Viacheslav Frolov graduated the National Aerospace University "KhAI" in 2018.
He is graduate student of the Department of Informatics of the National Aerospace University "KhAI".
Research interests:
Information security.
Cloud computing.
DevOps methodology.
Providing academic disciplines:
"Dependability and faul tolerance of computer systems"
Articles:
Frolov, V., Frolov O., Kharchenko V. Classification of Diversity for Dependable and Safe Computing. COLINS, 2019. Available at: http://ceur-ws.org/Vol2362/paper32.pdf
Frolov, V. Analysis of approaches providing security of cloud services. Radioelectronic and computer systems, 2020. Available at: http://nti.khai.edu/ojs/index.php/reks/article/view/reks.2020.1.07/1141
Frolov, V., Orehov O., Kharchenko V., Frolov O. Analysis of variant of two-version multi-module web application using cloud services. Radioelectronic and computer systems, 2020. Available at: http://nti.khai.edu/ojs/index.php/reks/article/view/reks.2020.2.07
Plakhteyev, A., Perepelitsyn, A., Frolov, V.: Edge Computing for IoT: An Educational Case Study. In: 9th IEEE International Conference on Dependable Systems, Services and Technologies, pp. 130–133 (2018). doi: 10.1109/DESSERT.2018.8409113